This week, I got my hands on Whispering Peak, by Alyssa Cooper. It is definitely on the must-read list! This book will keep you so engrossed that you will swear only an hour of your day has gone by after you're done with it. I'm looking forward to reviewing The Motel Room by Alyssa soon, and to see what else she has in store!
ABOUT THE BOOK: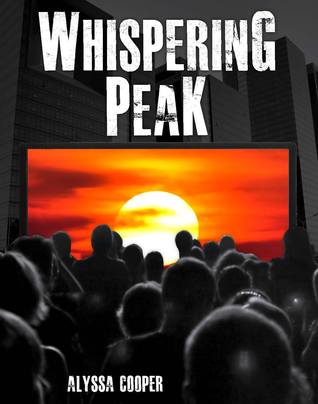 Martha and her brother were born in the Outlands. They have only heard stories of Invictus, the grand capital city; they have never seen it for themselves. But when their general is taken hostage, Martha and Asher have no choice but to make their way through the monumental steel gates that enclose the city, and bring him home.
In their valiant and misguided rescue attempt, the pair will come to learn that the darkest of Invictus City's secrets - underground prisons, mutated monsters, psychotropic brainwashing - have been kept hidden behind the wall.
There, they will face the horrors that they never knew existed.
ABOUT THE AUTHOR:
A lifelong lover of literature, Alyssa Cooper was first published at the age of eighteen. Her passion for the written word started early, and as a child she would carry her mother's novels as part of her wardrobe. She has dedicated her life to developing her voice and pushing the limits of her craft. She is the author of three traditionally published books, Salvation, Benjamin, and Cold Breath of Life. The Motel Room and Whispering Peak are her first foray into independent publishing. She currently resides in Belleville, Ontario, where she lives with her typewriters and a personal library.
MY REVIEW:
Five out of Five Stargates: Out of this world!
Whispering Peak
by
Alyssa Cooper
My rating:
5 of 5 stars
Loved it! This book follows the journey of Martha and her younger brother Asher as they make their way out of Whispering Peak and to the ominous town of Invictus. Their journey is full of suspense and danger as they are constantly under watch and have to fend off threats from outside the city gates. The relationship between the two siblings is endearing and only adds to the intrigue of their situation. Martha is obviously very protective of Asher, and he is very much so a six year old child scared of things going bump in the night--let alone finding out what those things are. So for Martha to take him from Whispering Peak to Invictus even knowing the dangers along the way and once we get there really makes you wonder what it is they have left behind, and why it is so important that they get there. Their journey is a page turner, beautifully written, and is heartbreaking in its own right as we see the two forced to grow up in the blink of an eye. As they take their last steps toward the Invictus gates, we know they will never be the same.