This book has been on my TBR list for a while, and I'm really glad it finally found its way to the number one spot!
ABOUT THE BOOK:
Initiation
Pagan Eyes, Book One
Leah Carpenter thought being the only witch in her local high school was hard. That was until she inexplicably found herself in the past running from an angry mob, which turned out to be much harder. Growing up comes fast as she wrestles with surviving in another century and mistaken identity. Fast thinking, luck, and whole lot of magick might get her out of her current dilemma; then again, it might not.
(Also available in print)


Book two, Revelation, is now available!
ABOUT THE AUTHOR: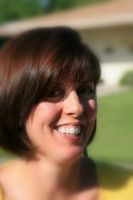 Rayna Noire is an author and a historian. The desire to uncover the truth behind the original fear of witches led her to the surprising discovery that people believed in magick in some form up to 150 years ago. A world that believed the impossible could happen and often did must have been amazing. With this in mind, Ms. Noire taps into this dimension, shapes it into stories about Pagan families who really aren't that different from most people. They do go on the occasional time travel adventures and magick happens.
Find her online:
MY REVIEW:
Four out of Five Stargates: Definitely worth the read!

Initiation
by
Rayna Noire
My rating:
4 of 5 stars
This was a great book, rich with details and vivid characters. Leah is the reluctant hero, uncertain as to why on earth she would be chosen to fulfill some destiny in the past. At the beginning, she can't comprehend solving the problems of her current life with the trio of Mean Girls taunting her at school or the crush she's too afraid to talk to. The idea of solving the problems of her past life self, Arabella, with witch hunters hot on her trail and a scorned former love now serving as a priest sending those hunters after her? Way too much for her to handle.
Watching Leah grow more confident and comfortable in her own skin (funny enough, this growth happens mostly while living in Arabella's skin) is a real treat. Her character development feels natural. Her family dynamic also feels natural. I LOVED that her family was so involved in everything that happened to her instead of it being a big secret and a burden she carried on her own. I really enjoyed how Leah traveling back in time almost felt like you were slipping into a historical fiction book. It all felt very well researched and this just added to the intrigue pulling me back to the book.
I really appreciated how Leah's journey to the past has just as much to do with what she needed to learn in the present as what she needed to do to help things in the past. My only let down was that the ending felt a bit anti-climatic. In some ways, that was really good since this book was a refreshing take on fantasy. But I didn't really feel an impact with her confrontation with Lionel, and it all happened really fast. I'm glad this is the first book in a series because I really feel like I'm not done with these characters yet. I'm looking forward to seeing more of Leah and her family.